Traditional Hatha / 30 Days / 300 Hours Yoga Alliance Certification
This 300 hours Advanced Yoga Teacher Training in India is meant for students and yoga teachers who completed 200 hours yoga teacher training from a recognized school already. Advanced Yoga Teacher Training in our ashram helps to deepen the understanding of advanced asanas, pranayamas, kriyas, yoga nidras etc. This advanced yoga instructor training helps to improve both self-practice and ability to teach advanced poses and sequences, which are not covered in 200 hours yoga teacher training certification courses.
Practically, we prefer the students who completed 200 hours teacher training with us to come for this course. However, if you have completed your previous training in a different school or style, please email us your yoga teacher training certificate and syllabus of what you learnt, to ensure that you are prepared for our highly challenging Advanced Teacher Training, in both self-practice and teaching careers.
If we feel that your previous training doesn't include what is considered standard syllabus, we may ask you to come for a two week Intensive Yoga course, as a preparation for our 300 hour Yoga Teacher Training in India, which can be challenging if you don't have the physical and spiritual background that we impart in our 200 hours training.
Who Can Come?
Completed 200 hours Yoga Teacher Training in Yoga Alliance accredited school
Advanced enough to hold basic asanas for a minimum of 1 minute
Healthy joints and back, to practice 20 to 30 rounds of Sun Salutations every day
Core Strength enough to do 15 to 20 double leg lifts continuously.
Lung Capacity to sustain at least one hour of Pranayamas a day, two 30 minute sessions separately.
Basic knowledge of Anatomy and Physiology of Human Body
Physical stamina to handle the intensity of 10 hours/day schedule
Psychologically matured to handle all the emotional roller coaster and cultural differences of the group
Willing to practice silence from 10 pm – 10 am
Who Can not Come?
High Blood Pressure (uncontrolled)
Any heart or brain related medical conditions
Any ongoing issues or injuries to neck, shoulders, and knees (or any 8 major joints)
Any past injuries or medical conditions with spine or chronic back ache
Pregnants
For any other chronic or serious medical condition, please email us before registration.
What can you gain from advanced Yoga Teacher Training Retreat in India?
Surya Namaskaras: Daily practice of min. 20/30 rounds everyday 1) to strengthen Joints Core for advanced poses 2) improving Cardio-Lung capacity to breath better 3) Detoxifying the Body-Breath-Mind.

Advanced Asanas: Led by the advanced teachers, the morning Yoga class focuses on holding intermediate to advanced asanas longer to explore body-breath-mind at deeper level. The evening classes are more Yang and relaxing in nature.

Anatomy & Sequencing Principles: Both morning practice sessions and afternoon workshops will teach how to practice /teach more advanced asanas and their variations safely, as per the level of student.

Pranayamas: Two pranayama sessions every day (of 20 to 30 minutes each) to master the basic pranayamas and to learn how to practice/teach advanced pranayamas safely, while applying bandhas.

Kriyas: Daily practice of Jala Neti, Kapalabhati/Bhastrika, Agnisara and trying out Sutra Neti, Shanka Prakshalana in the last week of the course, for students who are ready.

Meditation & Yoga Nidra: Learn and practice of various meditation and yoga nidra techniques that you can practice or teach to your future students.

Philosophy: The essence of Bhagavad-Gita for daily life and Patanjali Yoga Sutras, either one or both subjects, depends on the philosophical background of the group. Sanskrit lessons to read/write are also offered in certain Advanced Yoga Teacher Trainings, depends on time-availability and interest of students.

Ayurveda & Yoga Therapy: An introduction to concepts of Ayurveda to understand the physical body/mind, more than what yoga anatomy can teach. Also our Yoga Therapy classes train you on contraindications of certain asans and how to help the students with certain common diseases such as High BP, Diabetes, Asthma etc.

Chanting: Learning how to chant a few more Sanksrit Prayers that you can use in Class Rooms.

Teaching Practice: Each student will be teaching at least two to four classes to the small group of four/five other students: 1) Intermediate 2) Advanced, and also learn how to offer workshops based on Chakras. These classes will be monitored by our expert teachers who would help with corrections and suggestions.
Recommended Pre-readings:
Bhagavad Gita

Patanjali Yoga Sutras
*There is no need to buy or bring any books with you to the course, as we will provide you with all the necessary books and manuals here.
Daily Schedule
05.30 – 06.30 am: Meditation and Kriyas

06.30 – 09.00 am: Asana and Pranayamas

09.00 – 10.30 am: Brunch

10.30 – 12.30 pm: Yoga Philosophy

12.30 – 01.30 pm: Private Coaching / Rest

01.30 – 02.30 pm: Fruit Lunch

02.30 – 04.00 pm: Yoga Anatomy / Yoga Therapy / Ayurveda
04.30 – 06.30 pm: Teaching Workshops / Teaching Practice

06.30 – 07.00 pm: Pranayamas

07.00 – 08.00 pm: Dinner

08.00 – 09.00 pm: Videos or Chanting (3 times a week)

09.00 – 10.00 pm: Self Study

10 pm – 10 am: Silence Hours
This time table is subject to change as per weather conditions.
Classes are held 6 days a week. The 7th day is for optional Day-Trips.
Yoga Alliance Certification
During this Advanced Yoga Teacher Training in India, students are continuously assessed throughout the course in all five modules: 1) Self-Practice 2) Teaching skills 3) Anatomy + Ayurveda 4) Philosophy + Psychology of Yoga 5) Spirituality of Yoga. Every student will get a chance to teach two yoga classes for a small group four/five people and also to teach one-to-one corrections. One written exams on Philosophy and Anatomy will be given to evaluate the understanding of the students.
After the successful completion of the course, you can get the certification of RYT 300 hours yoga teacher training, which would be added to your past RYT 200 hours, to qualify you as RYT 500 Hours with Yoga Alliance.
We are registered with Yoga Alliance as "AyurYoga Eco-Ashram" Our faculty includes at least six teachers, some of them recognized as E-RYT 500 (Expert Registered Yoga Teacher) or RYT 500. The yoga teacher training certificate from our ashram in India, is valid for getting an insurance and also to invoice your expenses for 'further education and training' for taxation purpose, if you are a wellness professional.
After the course, we support our teachers through our online groups to help them with any suggestions and career opportunities through our Global Community. You can always ask for guidance in our online facebook group or through emails during early stages of teaching.
Download Orientation guide PDF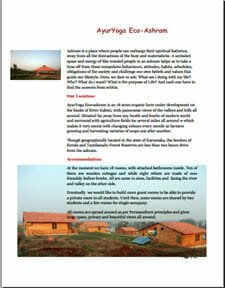 If you need more practical information about this program such how to get here, preparations, what to bring, what to read, and other practicalities of coming to India, please check out our Orientation Guide meant for preparing our Teacher Trainees.
Orientation Guide – 300 Hour Yoga Teacher Training India
Advanced Yoga Teacher Training in India
You can also save/print this PDF from browser menu.



Upcoming Dates for 300 hours Yoga Teachers Training in India
Dates
November 15 - December 13, 2023
March 20 - April 17, 2024
Pricing for 300 hours Yoga Teacher Training in India:
Duration
Twin-Share Room
Private Room
Discounted INR Pricing for the residents of India
We are offering special discounts and scholarships for residents of India. However, the number of spots in each course is limited. To qualify for these discounts or scholarships, please email [email protected] with the following information: Introduction about yourself, background in Yoga, specific dates and program you are interested in, and why do you want to participate in this retreat?

For Twin-Share Accommodation:
Female students can book the twin-share accommodation online and we will find another female student to share the room.
For male students, please book twin-share room online only if you have a partner to share the room. If not, please email to [email protected] to place you on the wait-list. Whenever we hear from another male student wanting to share a room, we will email you back with a link to register.
Pricing includes :
New yoga mat
Books, Manuals & neti pot.
30 days of all ayurvedic/vegetarian meals and drinks.
30 days of Accommodation, with attached bathroom.
1 GB of complimentary Wi-Fi.
Yoga Alliance Certification
Evening Walks/meditation/mantra chanting/video shows etc.
Transport / Flight Tickets.
Payment processing fees charged by Paypal / Payment Gateways / Currency Exchange fees.
Our courses are taught by at least six expert teachers and supported by more than 10 staff. The food in our ashram is specially designed for International yoga students, cooked mostly mostly vegetables from our own organic farm or bought from local farmers.
Airport Transfers and taxi to pick up and drop can be organized at extra cost. Please check How to Reach page for more details.
Day before Start date: Arrival and rest.
Starting Date: Includes a ceremony and orientation.
Day 7: Cultural Tour.
Last Day: Departure (possible to extend your stay).
Additional days of Stay:You are welcome to stay before or after the retreat by paying an additional charge of $40/day, includes all meals and drinks. If a yoga and meditation class is already being offered, you're welcome to join.
We organize Cultural Tours on every seventh day which is a day-off from classes. Please check the Day Tours page in our website for more information. The tour costs are not included in the course fees and need to be paid separately. It will cost about $10 to $20 maximum for each trip.
More Questions?
Please email to info(at)ayuryoga-ashram.com.
Photo Gallery
Yoga Videos Gallery
300 hr Yoga Teacher Training Reviews