Traditional Hatha / 30 Days / Yoga Alliance Certification
One month / 200 hours Yoga Teacher Training in India, also known as Yoga Instructor Course. This program is ideal for long term yoga students who want to experience the intensive practice of traditional Hatha yoga in a peaceful environment. Half of our yoga teacher training course content is focused on training new teachers with detailed practice and teaching methodologies of the asanas. While another half of the teacher training course content is focused on improving Pranayamas, Meditation and a practical philosophy to combine the physical practice of Hatha Yoga with traditional spirituality and Yogic lifestyle for yoga students living in a competitive stressed life in the modern society. So, this yoga teacher training Retreat in India is not only for would-be yoga teachers, but also for anybody wanting to make a transformational shift in their body-breath-awareness and trying to find a meaningful purpose in Life.
Style of Yoga?
This yoga teacher training course is focussed on learning to practice and to teach traditional Hatha Yoga style, which focuses on improving the spinal anatomy at the core of all asanas and not about speed and flow, which can work against spinal anatomy. Traditional hatha yoga also focuses on Chakras, subtle energy body, to customize the asana practice for each individual, based on their physical and mental requirements, rather than imitating a generic sequence or generic asana as seen on magazine covers, without considering the limitations of joints.
Traditional Hatha Yoga class which are taught in our Yoga Teacher Training always include Pranayamas and Yoga Nidra. Another major difference between modern styles of yoga and traditional hatha yoga in our ashram is we focus more on Stability (Sthira) with right alignments at 8 major joints and breathing to increase the duration of asana. We discourage the students and would be yoga teachers from doing faster flows while ignoring basics of joint and spinal anatomy to exert cardiac activity and firing up muscles without supply proper amount of prana (breath) to muscles and heart.
This 200 hour Yoga Teacher Training in India covers all the basic techniques and skills to get started on the noble path of sharing your practical knowledge of yoga – both physical & intellectual – in a professional way. Even if you are not interested in teaching yoga, the practices and philosophy have a detoxifying effect to enrich your body, mind and intellect, and also to understand the purpose of life and know-how to live a sane and peaceful life in this crazy modern world.
Who Can Come?
Practicing Yoga regularly for at least two years.
Physically fit to handle four hours a day of practice. Test yourself with 10 rounds of Sun Salutation at one go and comfortable to hold the basic asanas for at least 30 seconds.
Mentally eager to listen to two theory classes a day and write an exam!
Spiritually focused to wake up early for meditation and ready to handle all the emotional roller coaster this course might cause.
Passionate to question and challenge your own beliefs on who am I, purpose of life, cultural attitudes and ready to raise above petty judgments of society.
Having no chronic illness, recent surgeries, pregnant, or under medication for severe psychological disorders.
Course Outline
Practices led by traditional teachers: Asanas, Pranayamas, Neti, Meditation, and Chanting Mantras.

Teaching Workshops: Demonstration of Asanas and their variations. Classification and sequencing of yoga asanas as per traditional understanding based on Chakras. Adjustments of common mistakes and hands-on techniques.

Yoga Anatomy: Therapeutic benefits of Asanas and Pranayamas, precautions, and contraindications. Anatomy and Physiology of 7 systems of body.

Philosophy: Introduction to Yogic Lifestyle in modern times, Historical Evolution of Yoga, Paths of Yogas, Patanjali Yoga Sutras.

Teaching Practice: Testing and sharing your teaching skills with your co-teachers.

Career: Business/Career of a yoga teacher, communication skills and safety norms.
Curriculum: International & Traditional
Techniques Training / Practice — 117 Hours: Includes asanas, pranayamas, kriyas, chanting, mantra, meditation, and other traditional yoga techniques. These hours are a mix between (1) analytical training in how to teach and practice the techniques, and (2) guided practice of the techniques.
Teaching Methodology — 26 Hours: Includes principles of demonstration, observation, assisting /correcting, instruction, teaching styles, qualities of a teacher, the student's process of learning, and business aspects of teaching yoga.
Yoga Anatomy & Ayurveda— 26 Hours: Includes both human anatomy and physiology of Yoga. Anatomy of Pranic body: chakras, nadis, bandhas etc. Includes both the study of the subject and application of its principles to yoga practice (benefits, contraindications, etc. Basic introduction to Ayurvedic three doshas, diet and lifestyle based on seasons and constitution.
Philosophy, Lifestyle & Ethics — 26 Hours: Includes the study of Yoga Sutras, Yoga in a Big Picture, historical evolution of yoga, four paths and various techniques for Self-Realization, yogic lifestyle in a modern society, and ethics for yoga teachers.
Practicum — 20 Hours: Includes practice teaching, receiving feedback, observing others teaching and hearing/giving feedback.
Daily Schedule
06:00 – 06:40 am: Meditation

06:40 – 07:00 am: Neti / Kriyas

07:00 – 09:00 am: Yoga & Pranayamas

09:00 – 10:00 am: Brunch

10:30 – 12:30 pm: Yoga in Big Picture / Yoga Anatomy

12:30 – 02:00 pm: Free time / Private coaching

01:30 – 02:30 pm: Fruits/Snacks
02:30 – 04:00 pm: Yoga Sutras / Ayurveda

04:30 – 07:00 pm: Yoga Anatomy Workshops / Teaching Practice

07:00– 08:00 pm: Dinner

08:00 – 09:00 pm: Video Shows or Chanting, on 3 nights a week

10:00 pm – 10:00 am: Silence / Self-Reflections
This time table is subject to change as per weather conditions.
Classes are held 6 days a week. The 7th day is for optional Day-Trips.
Yoga Alliance Certification
During this 200 hr Yoga Teacher Training in India, students are continuously assessed throughout the course in all five modules: 1) Self-Practice 2) Teaching skills 3) Anatomy + Ayurveda 4) Philosophy + Psychology of Yoga 5) Spirituality of Yoga. The Morning Yoga sessions are for improving the self-practice of asanas and also to make sure that you can comfortably practice/demonstrate all the asanas that you will be teaching after the course. Teaching skills are assessed through 12 sessions of Yoga Teaching practice in a small group of four/five people under the supervision of our teachers. Each teacher trainee will have to teach at least two yoga classes. Also, there will be one written exam on Anatomy and another paper on Philosophy, to assess what you learned in our theory classes. If you don't pass the exams, we will be happy to sit down with you one-to-one and make sure that you do understand all the important concepts of Yoga.
AyurYoga Eco-Ashram is accredited as RYS 200 + RYS 300 Registered Yoga School with Yoga Alliance USA, since 2010. Our faculty for teacher training includes at least six teachers, who are mostly recognized as E-RYT 500 (Expert Registered Yoga Teacher) or ERYT 200. The 200 hr yoga teacher training certificate from our ashram in India, is valid for registering as RYT (Registered Yoga Teacher) with Yoga Alliance. In the last week of the course, we will explain and help you on how to register as a yoga teacher, insurance, taxation, Medical Release form and business aspects of teaching yoga.
Our Experience of Yoga Teacher Training in India
AyurYoga Eco-Ashram (formerly known as Yoga Vidya Retreats in Kerala and Dharmasala), has been offering this Yoga Teacher Training Retreat in India since 2010. So far, we have completed 67 Yoga Teacher Training Retreats in India (as of March 2020), graduating more than 1300+ yoga students from 40+ countries! We also taught 11 advanced yoga teacher trainings (300 hours), helping 150+ yoga teachers to enhance their skills in teaching yoga.  We will be happy to connect you with our past teacher trainees in your country, if you wat to talk to them about their experience.
Please view our Flickr page to see the photos of all our past Yoga Teacher Training Courses in India – also includes the photos of Yoga Vidya Yoga Teacher Training Retreats from Varkala and Cochin (Kerala) and Dharamsala (Himachal Pradesh) in North India organized by us before starting the ashram.
Other than a peaceful and safe environment for single females, healthy food (vegans are welcome) and best accommodation and facilities in peaceful mother nature (which is hard to find in India), our retreats are unique for the focus on spiritual aspects of Yoga taught by traditional teachers and also gives an introduction to Ayurveda. Unlike Yoga Schools/studios run in seasonal touristy yoga in Rishikesh, Goa, Dharamasala, etc. the ashram caters for serious yogis who wants to embrace the Yogic Lifestyle and spirituality, other than improving the yoga asana practice.
After completion of Yoga Teacher Training with us, we support the new teachers through our online groups to help them with any suggestions and career opportunities through our Global Community and Facebook group, where you can always ask for guidance after completing Yoga teacher training with us.
DOWNLOAD ORIENTATION GUIDE PDF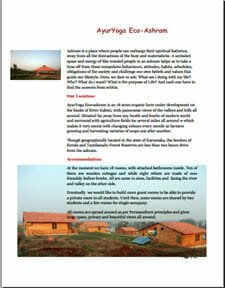 If you need more practical information about this program such how to get here, preparations, what to bring, what to read, and other practicalities of coming to India, please check out our Orientation Guide meant for preparing our Teacher Trainees.
Yoga Teacher Training India
You can also save/print this PDF from browser menu.
Upcoming Dates for 200 hours Yoga Teacher Training in India
Dates
July 18 - August 15, 2023
September 1 - 29, 2023
October 10 - November 7, 2023
January 10 - February 7, 2024
February 14 - March 13, 2024
Pricing for 200 hour Yoga Teacher Training in India:
Duration
Twin-Share Room
Private Room
Discounted INR Pricing for the residents of India
We are offering special discounts and scholarships for residents of India. However, the number of spots in each course is limited. To qualify for these discounts or scholarships, please email [email protected] with the following information: Introduction about yourself, background in Yoga, specific dates and program you are interested in, and why do you want to participate in this retreat?
For Twin-Share Accommodation:
Female students can book the twin-share accommodation online. We will find another female student to share the room.
For male students, please book twin-share room online only if you have a partner to share the room. If not, please email us to check if there is any another male student to share the room.
Pricing includes :
New yoga mat
Books, Manuals & neti pot.
30 days of all ayurvedic/vegetarian meals and drinks.
30 days of Accommodation, with attached bathroom.
1 GB of complimentary Wi-Fi.
Yoga Alliance Certification
Evening Walks/meditation/mantra chanting/video shows etc.
Transport / Flight Tickets.
Payment processing fees charged by Paypal / Payment Gateways / Currency Exchange fees.
Our courses are taught by at least six expert teachers and supported by more than 25 staff. The food in our ashram is specially designed for International yoga students, cooked with mostly vegetables from our own organic farm or bought from local farmers. Vegans or anybody don't want milk, nuts, or any food allergies are welcome to come here, we can prepare you an alternative food.
Airport Transfers and taxi to pick up and drop can be organized at extra cost. Please check How to Reach page for more details.
Day before Start date: Arrival and rest.
Starting Date: Includes opening ceremony and orientation.
Day-Off: 3 days are off/every seventh day.
Last Day: Departure after 2 pm (no extra charge for the last night).
Additional days of Stay:You are welcome to stay before or after the retreat by paying an additional charge of $40/day, includes all meals and drinks. If a yoga and meditation class is already being offered, you're welcome to join.
We organize Cultural Tours on every seventh day which is a day-off from classes. Please check the Day Tours page in our website for more information. The tour costs are not included in the course fees and need to be paid separately. It will cost $30 to $40 per a taxi which can be shared with other students.

Photo Gallery
Yoga Videos Gallery
Reviews on 200 hour Yoga Teacher Training in India